Screen recording software programs are increasingly used in business activities. It is more than fit for online training and education. Now, businesses use screen recorders for collaboration and video conferencing.
Screen recording software can support multiple operating systems. It's not designed for Mac and Windows users anymore. Even mobile devices like Android and iOS can enjoy this software.
They are easy to use and benefit anyone, from students needing to record an online class to employees who need to create presentations.
Screen recording software comes in free and paid versions. Of course, opting for the paid version will give you more features and you enjoy plenty of advantages than the free screen recorder.
We will provide a list of screen recording software programs that are compatible with any operating system, and offer a free version, if available.
What Are the Benefits of Screen Recording Software?
Review Employees' Performance
Business owners need to check on their employees once in a while to see how they are doing and if they are improving on their performance. Using screen recording or screen capturing software can help employers track what their employees are doing. They can playback the recordings to listen to calls or check on their activities if they are being productive or not.
In addition, screen capture software can also verify if your employees are following company policies. If you know your employees practice the policies you gave, it will help secure company data, enhance productivity, and improve the overall status of your company.
Conduct Better Training
The usage of screen capture software dramatically increases the effectiveness of training. After you've assessed an employee's performance, the next step is to train them. Make your own recordings of the lessons and lead training sessions using real-world examples. This allows trainees to connect the concept more effectively, resulting in better knowledge training implementation across the organization.
Instead of dictating or speaking, the practicality of the software allows people to delve further into understanding the principles, and this is how it is employed extensively from a small business to a major corporation.
Simplify Complicated Issues
A screen recorder can help solve problems that need an explanation, especially for those working on teams remotely. You can explain things by recording solutions like technical assistance, or how a task is done, and so on. Screen recording videos are helpful to simplify complicated conversations or discussions.
PCI and HIPAA Compliant
Screen recorders are compliant with PCI and HIPAA policies, so sensitive information is kept protected. There are screen capture and recording tools that give users the option to black out all private information when in the screen capture.
Improve Internal Systems
When using screen recorder or capture software, you can check on how your website or if tools are working. You can see if a website is taking too long to load, or a software program is inconvenient on the part of your employees. By seeing what's happening within your business, you can find ways to make things simple and provide convenience to your employees. In return, it will boost your business's profitability.
Now that you've seen the benefit that screen recording and capture software does to your business, here are brands you might want to give a try.
Best Screen Recording Software
Loom
It can support Mac, Windows, iOS, and Android
If you need a screen recording software that's made for collaboration, allows shareable links, and creates short videos, Loom would be a perfect choice.
They offer versions for consumers and for businesses.
For businesses, they'll enjoy fast communication with async videos by saving time for teams to communicate efficiently. There is no need to type long emails or even schedule a meeting. Just record a video of your screen and your cam, send the link to your team and everything will work smoothly.
Not only will teams enjoy Loom, but businesses can also capture their insight and share them with clients. There is also the option to link new hires for faster and easier hiring and training.
You can try Loom for free but features are limited such as the quality of the video is not that good. In addition, you'll only be able to record for five minutes and have 25 videos to record.
The Business and Enterprise versions, on the other hand, are equipped with unlimited minutes of video recording and you'll enjoy high-quality videos. Paid plans are also integrated with enhanced security. This includes, but is not limited to,
GDPR, CCP, and SOC 2 Type 2 compliant

Secure and reliable infrastructure with AWS

Advanced admin control feature to protect sensitive information within the company

Encryption of data at rest and on the move
The paid plan starts at $8/month if paid annually.
Movavi Screen Recorder
Movavi's screen recorder software has a built-in editor to create professional-looking videos. You can even set a schedule as to when you plan to record even if you are away from your desk.
You can capture anything with Movavi. It is possible to record online calls, webinars, tutorials, and more. There's also the option to add drawings to your recording to make the content unique and even engaging.
Other features of Movavi:
Create screencasts by recording your screen and audio either simultaneously or separately

Show keyboard and mouse when recording

Record the audio on your computer without the video

Use a webcam to record without recording your screen

Simple set up before recording

Edit recording with the built-in editor
Movavi Screen Recorder for Mac and Windows is available.
There is a free version to try. However, you can purchase their paid version if you want, they come in a lifetime license and subscription-based plan.
Check out our online shop to buy Movavi Screen Recorder for Mac and Windows. Get 20% off on our Movavi products.
Open Broadcaster Studio or OBS
OBS is a screen recorder that people tend to choose often when they don't want to spend money. It is a great option for gamers to use, as it was designed that way.
It is preferred by most because you can capture as many clips and audio as you want, blend them together effortlessly, and add some custom transitions.
Video and audio capturing and then editing can all happen in real-time. You can all blend images, window capture, videos, audio, and more.
Users can edit audio with the audio mixer that comes with multiple filters. Furthermore, the setting of hotkeys is possible for shortcuts. These hotkeys can work on any actions like switching scenes, pushing to talk, recording, and more.
It offers a studio mode to preview scenes and make adjustments before you can go live.
Screencastify
If you don't want another software to take up much space on your device, you can use Screencastify. It is a browser extension that provides a 10-minute recording of your screen and audio. But you can extend the time by getting the paid plan.
Even though Screencastify is a browser extension, it can record your full screen if desired. Plus, it can support audio from your system and microphone.
There is also a real-time annotation or drawing option available. When you're done recording, you can share your files online like on YouTube, or save them on your Google Drive.
The Watch Page is a tool you can use to see the engagement in your videos. So, if video content is part of your marketing strategy, Screencastify is an excellent tool to use.
You can keep your videos safe by allowing those who can access, view, or share your video.
The supported export formats of Screencastify are MP4, MP3, and animated GIFs.
Screencastify offers a paid version for students, teachers, and schools.
Icecream Screen Recorder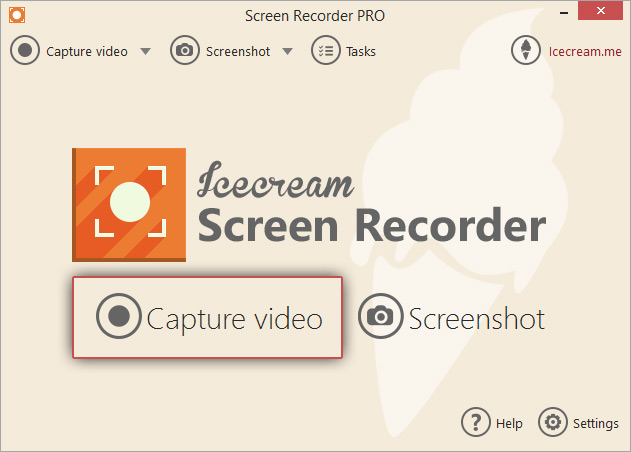 If convenience is what you need when recording your screen, you can have it with an Icecream Screen Recorder. The simplicity of this software won't have you spend much time figuring things out.
It's as simple as starting the software, clicking the record button, selecting the part of the screen you want to record, then off you go. However, there are other features you can enjoy after recording your screen.
Icecream allows users to make some edits on their video by adding text, shapes, or company logo, trimming parts of the video, changing speed, converting, displaying hotkeys, and more.
There is a free version of Icecream, but the paid plan gives you more time to record your screen.
It supports Windows. macOS, and Android.
Camtasia
Camtasia has been around longer than most and has more capabilities than most — in addition to capturing what's on-screen with ease, this fully equipped video editing solution can also add plenty of extras and changes on top. It, in fact, best suits professionals.
Whatever you want to record, from games to PowerPoint presentations, Camtasia can handle it — with or without audio, a webcam feed, and more. Then you may add annotations, other media files, transitions, titles, and more to your film.
Camtasia offers professional tools like animations, green screen, and cursor FX to name a few. Here is the complete list of its features.
There is a free trial available, but the best option is getting the paid plan for outstanding features.
Conclusion
Screen recording software can range from simple recording and navigation like Icecream Screen Recorder, intermediate applications like Movavi Screen Capture for Mac and Windows, or complicated tools like Camtasia. Choosing the right software depends on your needs and skills. You can learn which software to choose by trying out the free version they offer. Some brands have a lifetime free version, while others have a limited free trial.
We offer Movavi Screen Recorder for Mac and Windows. You can check out our online shop to purchase. You can get 20% off on our Movavi products.